Accommodation at the wine cellar in Moravia
3 January 2016
One of our wine cellars is situated in a village called Mikulcice. The area of wine cellars is in the separate part of the village and consists of over 20 wine cellars in the street next to each other. Behind each of the wine cellars, one can enjoy an amazing view over the vineyard and peacefully relax.
Our second wine cellar is situated in the small village called Nechory, which is a wine village inside of a village Prusanky. In this area is located more than 450 wine cellars all together and makes it a great location to make trips to the surroundings of this area. Nearby, there are many cultural events, where one can just explore the area walking or for example bike around.
There are several cycling-ways that are suitable also for the families with children, and experienced bikers too. (More in the section Tourism)
Part of this wine Moravian village is wine tasting in the surrounding wine cellars and visiting winery events in the neighbouring villages. The complete overview of the wine events and all interesting events of this area you can find on the website Wine events.
For longer stays (4 nights and more) there is a swimming pool available with the possibility of BBQ in the close village Luzice.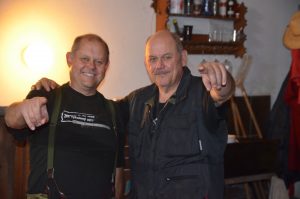 WHY TO STAY IN OUR WINE CELLAR?
Newly reconstructed and fully equipped wine cellars

Rooms with the own bathroom, kitchen in the wine cellar

Prices from 400 CZK (16€) per person per night*

Possibility of the guided wine tasting of our home-made wine**

Wide range of the cycling-ways 

Self-catering in the kitchen or in the near restaurants or pubs

Opportunity if renting out the pool and barbecue place in the near village Luzice

Families with kids and pets are welcome
*with the stay longer than 4 days
**it is possible to order food together with the tasting in the form of small tapas, traditional meat products and variety of cheeses; vegetarian option available as well
WINE EVENTS
Wine events, wine exhibitions, wine tastings, wine fairs and other events from the area of winery you can find on the website Calendar of wine events in the area of Slovacko and Calendar of wine events in the area of Mikulov.
CYCLING
In few past years, the South-Moravian region is fastly developing in cycling tourism. From the wide range of the cycling ways everyone can choose their fit – beginner, family with children or experienced biker as well. 
Come and explore beautiful nature and vineyards of South-Moravian region!